About three weeks ago, had to go to Berlin to take care of some things regarding  the moving process. That gave me the opportunity to visit a dear friend (Mihaela) and have together lunch at "La Mano Verde". For those of you who don't know, this is a Raw vegan Restaurant set in the heart of Berlin.
At first I had another place in mind to go check it out. Another vegan one. But it was closed, due to the fact, that in Germany Mondays & Tuesdays are free days for some Restaurants/cafes. After reading a few mixed reviews about "La Mano Verde"-although initially I was really excited to come, I was starting to doubt my choice. But apparently, I was supposed to come here....haha. Anyways I didn't regret it.
Yes it is a bit pricey...and the portions are small. But I came for the experience, plus I was celebrating something, so I said...what the heck, why not?
By the way, you can go on my YouTube channel to see what I ate there, and other stuff. https://www.youtube.com/watch?v=8h-FLpqaePA
An interesting fact about the this place, is that the menu is a TABLET. Yes, I mean there is this app obviously installed on it. But when you expect to receive some sort of form of menu on paper...well you receive a tablet. Kind of cool...yet I don't know....kind of weird too. Because there is a certain feel to a paper menu. It almost felt like I was not at a Restaurant. hahaha...
We ordered the daily/lunch (a 3 course meal) for 19,90 euro per person. It was delicious. The wine is not cheap. The bottle we ordered was 26 euro...I think. One of the cheapest ones.
A fun fact is that I actually got to meet the Chef. Yep. Mr. Christian Jury.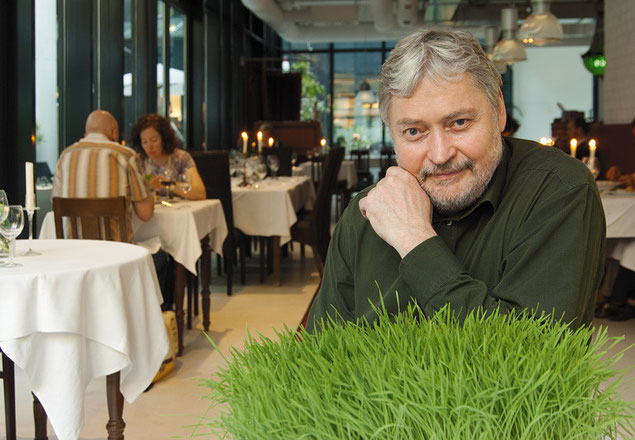 If you'll watch  the video, you will see a "crazy" dog with us. Igor. So he was being really loud at some point. And we were trying to make him go quite. Not a fat Chance. In fact when Mr. Jury appeared at my side, he got even louder. Initially when I saw him, I didn't know why he looked so familiar, and then had a sudden moment of realization. First I apologized for the noise....haha. I thought he came because of that. Anyways... Then I shook his hand in recognition and said that I have his cook book...haha and all that. But Igor kept at it. So he was forced to go. He tried to approach us again, to talk to us. Again Igor started to bark at him...like crazy. Well, he obviously smelled something shady there. hahaha....
Anyhow...I never thought I would meet him, or shake hands with him. So that was cool. And not in a stalking fan way. Cause I'm not. Never was. Just appreciating someone's work.
Here is the link from the Restaurant:
http://www.lamanoverdeberlin.com/
until next time, enjoy life,
Ana-Maria
text © 2014 Ana-Maria Theis